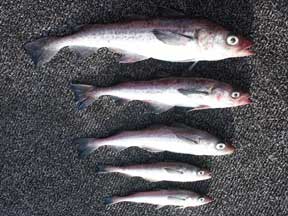 Understanding how fish allocate energy is key to understanding the processes underlying their recruitment. The allocation strategies used by juvenile fish have important implications for survival, while strategies employed by adults influence reproductive success.
The data presented in the following article are part of work conducted in the Nutritional Ecology Laboratory at the Alaska Fisheries Science Center's Auke Bay Laboratory. The work examines the seasonal changes in energy and nutritional content of forage fish species in the eastern Gulf of Alaska and Bering Sea.
These data can provide scientists with detailed information on the energetic requirements of forage fish species and the value of forage fish as prey. In addition, development of fatty acid libraries describing forage fish species and their prey will allow us to better understand forage fish trophic dependencies.