FISHERIES OCEANOGRAPHY COORDINATED INVESTIGATIONS (FOCI)
Winter Ichthyoplankton Survey and Arrowtooth Flounder Studies
Members of the Recruitment Processes Program and University of Washington participated on cruise MF03-02 (FOCI 1MF03) aboard the Miller Freeman 13-22 February 2003. The primary objective was to conduct an ichthyoplankton survey in the contiguous waters south and west of Kodiak Island, Alaska (Fig. 1). This work was needed to describe larval fish assemblages on the continental shelf and slope in winter, and to study the transport of early life history stages of fishes. This was the first winter ichthyoplankton survey conducted on the shelf around Kodiak Island since 1979.
The most frequently collected fish larvae from depths 200 m and shallower were greenling Hexagrammos spp.), red Irish lord (Hemilepidotus hemilepidotus), and arrowtooth flounder (Atheresthes stomias). Deep net tows from depths of 200-600 m to the surface were conducted at selected stations. These tows targeted eggs of arrowtooth flounder that are spawned on the continental slope. During the survey, highest abundances of arrowtooth flounder eggs were found at stations over the slope off the southwest end of Kodiak Island and between Chirikof Island and the Shumagin Islands.
The second objective of the cruise was to continue our ongoing studies of arrowtooth flounder spawning and egg development (see related article). Arrowtooth flounder have been of interest to AFSC scientists recently because the biomass of this species has increased dramatically since the mid-1970s and, at present, they are the most abundant groundfish in the Gulf of Alaska (Fig. 2). Based on data from AFSC 1999 surveys, CPUE was 3,945 kg/km2 with an estimated biomass of 1,262,797 t. Larval abundance has also increased notably in recent years.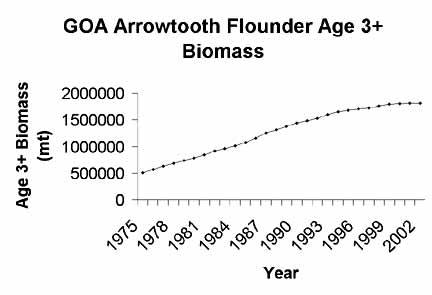 Although arrowtooth flounder are the most abundant groundfish in the GOA, they have limited commercial value due to the poor quality of the flesh. Upon landing, a proteolytic enzyme released from a myxosporean parasite causes softening of the flesh that further limits their marketability. Recently, several food grade additives have been successfully used that inhibit enzymatic breakdown. These discoveries have recently enabled a targeted fishery in the Kodiak Island area for marketable products including surimi and frozen fillets.
Although of only limited commercial importance, arrowtooth flounder are of substantial ecological importance at higher trophic levels in the Gulf of Alaska food web and have been identified as a significant food source for Steller sea lions, occurring in their diet 21%-35% of the time in the area around Kodiak Island. Arrowtooth flounder are also known to be voracious predators of juvenile walleye pollock. At present, however, data on many basic aspects of arrowtooth flounder early life history are lacking and only a few noteworthy studies have been conducted. One of these was the study by Bailey and Picquelle (2002) who found higher abundances of larger larvae in deep troughs and sea valleys and in near-shore shelf areas, particularly during ENSO (El Niño) events which appear to enhance recruitment.
In addition, as part of our study, we conducted bottom trawls in several areas on the upper slope off Kodiak Island and near the Shumagin Islands to collect ripe adult arrowtooth flounder. We stripped eggs and milt from the adults, and then fertilized the eggs aboard ship for rearing in the laboratory (Figs. 3 and 4). The objectives of this study were to determine: egg developmental landmarks, rates of development at three temperatures (3.0°, 4.5°, and 6.0°C), rear eggs to hatching, and determine the appearance of newly hatched larvae. Eggs fertilized on this cruise were incubated and sampled by Elizabeth Chilton at the Center's Kodiak Laboratory (see related previous article in this section) Data on physical characteristics of the water column were also collected. Peak spawning of arrowtooth flounder appears to have occurred earlier in 2003 than in previous years studied (2001 and 2002). This was evidenced by the presence of fewer mature and ripe adult females, and a higher incidence of spent individuals. From data collected on physical characteristics of the water column, the early spawning observed in 2003 may be a result of warmer bottom temperatures that were 0.5°-1.0°C greater than observed in previous years.

By Morgan Busby, Debbie Blood, and Ann Matarese.


AFSC Quarterly
Research Reports
Jan-Feb-Mar 2003
Contents
Feature
Auke Bay Lab
National Marine
Mammal Lab
RACE Division
REFM Division
Quarterly Index
Quarterly Home