STATUS OF STOCKS & MULTISPECIES ASSESSMENT PROGRAM:
Central Bering Sea Science and Technical Committee Meeting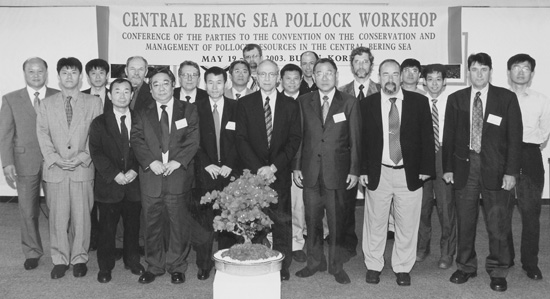 Participants in the Central Bering Sea Science and Technical Committee Meeting, Pusan, Korea, May 2003
A workshop on walleye pollock resources in the central Bering Sea was held in Pusan, Korea, 19-21 May 2003 at the Republic of Korea's National Fisheries Research and Development Institute (NFRDI). The purpose of the workshop was to evaluate scientific findings for key accomplishments that would affect our understanding of the pollock resources since the implementation of the Convention on the Conservation and Management of Pollock Resources in the Central Bering Sea (CBS) 8 years ago.
Scientists from Poland, Russia, Japan, the United States, and Korea attended. Four scientists from the AFSC participated: Rich Marasco (Workshop Chair), Loh-Lee Low, Neal Williamson, and Jim Ianelli. The agenda covered comprehensive survey plans with a proposal to integrate trial fishing into the research program. The AFSC delegation specifically proposed altering its echo-integration trawl survey of the Bogoslof Island region by the NOAA ship Miller Freeman from an annual to a biennial schedule (with the next survey to be in 2005). The survey has been used as an index for the Aleutian Basin pollock spawning population. The meeting accepted this proposal and encouraged continued cooperative research programs as in the past. However, the Parties did not come up with a firm plan to integrate trial fishing vessels into the regular research survey program.

Other agenda items included reviewing recent scientific accomplishments in the area of pollock stock assessments, analyses that may provide insight on pollock migration patterns, and factors affecting pollock abundance. The exchange of information and ideas improved our understanding of pollock ecology. The workshop did not come up with any recommendation to change any terms in the Convention.

For more information about this meeting, please see the CBS website at
www.afsc.noaa.gov/refm/cbs/convention_conferences.htm.

By Jim Ianelli.


NEPA

REFM staff provide technical assistance in the preparation of two important National Environmental Policy Act (NEPA) documents: the Alaska Groundfish Fisheries Programmatic Supplemental Environmental Impact Statement (PSEIS), and the Essential Fish Habitat Environmental Impact Statement (EFH EIS). The PSEIS describes and analyzes current knowledge about the physical, biological, and human environment in order to assess impacts caused by past and current fishery activities. The EFH EIS analyzes three specific types of actions: 1) identification and description of EFH for managed species, 2) identification of habitats of particular concern (HAPC) within EFH, and 3) minimization of adverse effects on EFH caused by fishing. REFM analysts are instrumental in developing and implementing many of the analytical approaches used in both documents and provide extensive assistance with mathematical modeling, database management, and data analysis in support of this effort.

By Dan Ito.



AFSC Quarterly
Research Reports
April - June 2003
Contents
Feature
Auke Bay Lab
National Marine
Mammal Lab
RACE Division
REFM Division
Quarterly Index
Quarterly Home